An 18-year-old boy identified as Jauan Durbin almost got disowned by is mother who discovered he wore makeup - The teenage boy however, got supported by some people online Jauan Durbin, an 18-year-old boy, almost lost his mother some days ago when the agitated woman came close to disowning him after discovering he has been wearing makeup.
The Morehouse College freshman shared with people a screenshot of the conversation he had with his mother. "I do not approve of this bullshyt," his mother wrote, while making reference to a photo of him, with his face fully made-up. "[What the hell] is wrong with you? I am so disappointed. You are a male. [Why the hell] do you have on eyelashes, eyebrows and makeup." "I'm completely done," she concluded. "OK," he responded.
While sharing the conversation with other social media users, the young man said he was going to live the truth. "This hurts. It really does. But I'm going to live my truth until the day I die."The post made by Durbin went viral almost immediately with many Twitter users retweeting it and making it their favorites.
Daily Newz gathered that the responses were mixed though as some praised him while others supported his mum and called him all sorts of names. The photos of the teenager were taken backstage of the Miss Maroon and White 2017 Pageant where he was assisting. His friend offered to do his makeup and the young man revealed that he has never had his makeup done that way. "I'm a model, but I had never worn a full face with lashes, it's only been minimal to be camera-ready," he said.
Excited about the outcome of the picture and the event, Durbin posted the picture and posted on Twitter. A screenshot of that was made by someone who sent it to his mum and the whole conversation started.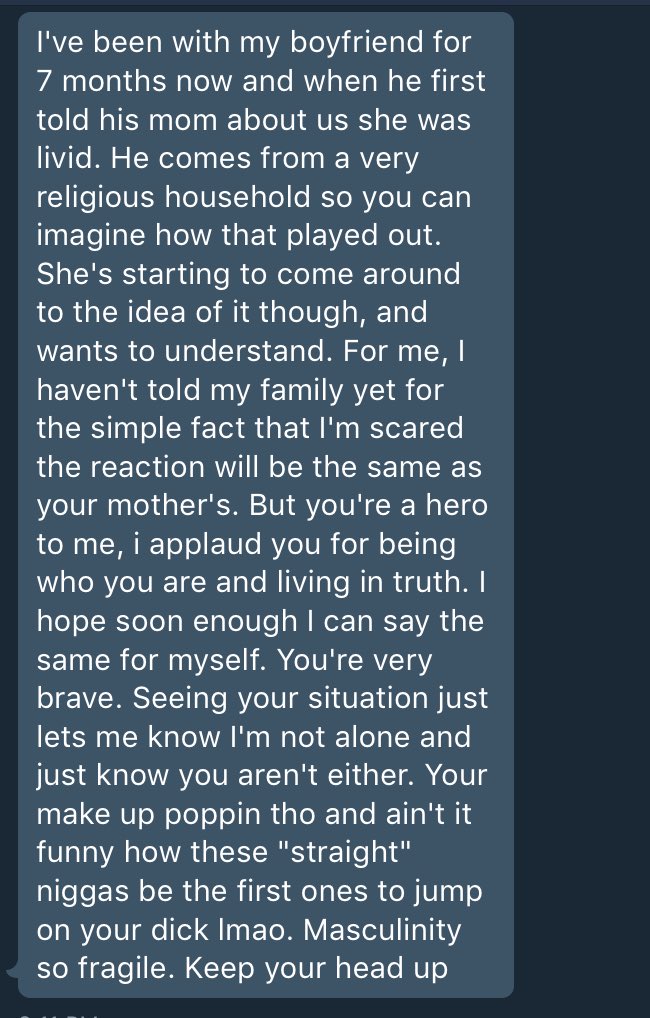 "I didn't post the original screenshot to put my mom out there, it was more so that I knew there were other people out there going through the same situation that I'm going through and many don't know if there's a way out of it," he said. "So I wanted to affirm them with my comments attached to the screenshot. That you should always live in your truth no matter if your parents don't agree with it.
You seek validation from your parents, you try to live up to their expectations, but sometimes their expectations are unrealistic." Ever since the episode with his mum, they have not spoken. He has gotten over two hundred direct messages from people ever since his photo went viral. The tons of support he is getting from people is lifting his spirit as he is hopeful that his mum would come round and understand someday.
See photos below: